ZUIGAKUIN was founded in 1978 by Zen Master Daigyo Moriyama and is unique in two respects. First-in its intention of reestablishing a way of practice as Zen Master Dogen has pointed it out in the 13th Century. Second-in itís attempt to provide access for foreign Zen students . Everyone is welcome to share in the daily schedule of Zazen, Sutra chanting, meals and work. The temple is located deep in the mountains. There is no electricity and telephone. Life becomes simple and clear in the presence of sounds, silence and the rhythm of nature. Thus Zuigakuin provides ideal circumstances for the preservation of mind- fulness in a11 our activities.
INTERNATIONAL EXCHANGE CENTER
Zuigakuin conducts relations with many Zen-groups and centers in the US., Brazil and Europe.At any time several languages are spoken. Besides English also French and German, at the moment. A branch-temple is located in the south of France under the direction of Rev. Joshin Bachoux, one of Moriyama-Roshiís dharma heirs.
HOW TO PARTICIPATE
At least one week before coming to Zuigakuin send a letter. (return postage appreciated) or Fax, including your name, address, telephone or Fax number, the date of arriva1 and intended length of stay. (The temple is closed from January to mid Match.) Please bring loose clothes for Zazen as well as working clothes. Keep in mind that the location is in the forest and at 700M altitude, SO itís always cooler than in the City. Also bring flashlight, toiletaries, towel and sheet. ĎThe charge is Y4,OOO per day and decreases after the fÔrst week. For further information, please contact Mr Masataka TOKURA at the Tokyo office. Tel: 03-3864-4631(Technica1 Union CO., Ltd.)
TRANSPORTATION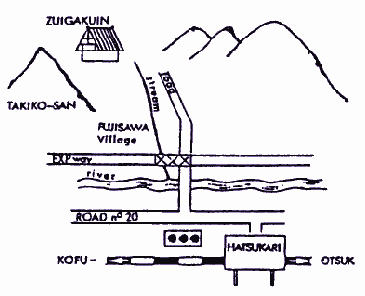 Zuigakuin is about one hourís hike from Hatsukari, the nearest station on JR-Chuo Line. The trail to the temple is well-marked and the local inhabitants can point the way. Hatsukari is about 2-hours from Shinjuku and Tokyo Station.
DAILY SCHEDULE